INTERVIEW WITH SISTER MARIE TAYLOR, BOARD PRESIDENT, EAST BAY HOUSING ORGANIZATIONS (EBHO) AND RESIDENT COUNCIL PRESIDENT, CHRISTIAN CHURCH HOMES (CCH)
HOW HAVE THIS YEAR'S EVENTS CHANGED YOUR PERSPECTIVE AND APPROACH AS A LEADER?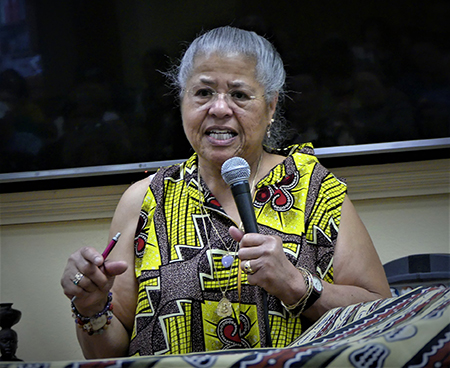 At Westlake Christian Terrace we had a very active resident council. We met every month through March and then we were shut down. The Council was where you'd hear resident concerns. Now that the dynamic has changed, it's more about touching base through phone calls or other vehicles to find out how residents are doing, what their needs are, and what we can provide to them from a Resident Council perspective. We're doing things in a different way and still trying to provide care and concern to residents.
AS THE NUMBERS OF COVID-19 CASES INCREASE IN CALIFORNIA, WHAT DO YOU THINK NEEDS TO HAPPEN TO ENSURE THE HEALTH AND SAFETY OF OLDER ADULTS?
I think the whole testing system is woefully inadequate. There is no movement to do large scale testing of seniors. The other part is that many residents can't get to the sites to be tested — then they've got to wait in lines. When they talk about 'everybody needs to be tested' — there are a lot of impediments out there. It's like a double-edged sword that nobody is attending to.
HAVE YOU SEEN SOME RESIDENTS BECOME MORE POLITICALLY ACTIVE OR ENGAGED?
Yes — Westlake is right at Broadway and 28th in Oakland. To have damage done to the drug stores and grocery stores really put a cramp in the life of our residents in terms of getting food and medicine. For a moment we were kind of back in a food and medicine desert. Residents weren't happy — although they understood what was going on and why, that was difficult for them. We had residents who marched and attended rallies down at City Hall and they've also been showing activism by phoning or other things they can do from their apartments.
SOME NEWS ARTICLES HAVE COMPARED THE PROTESTS IN RESPONSE TO THE DEATH OF GEORGE FLOYD TO THE CIVIL UNREST OF THE 1960S. WHAT DO YOU THINK NEEDS TO HAPPEN TO SUSTAIN LASTING CHANGE?
At different meetings I've been at, the question is often asked, 'what do you feel about this?' On one hand, I am weary, because I've seen it too often. It lasts for a minute, and then people go back to their same behaviors. The one hopeful is that the young people are very vocal. With the sit-ins of the 50s and 60s, it was the young people who began with enthusiasm to affect change. So, I'm hoping this will be sustained.
If we can continue these discussions around the source of racism within the United States, that's hopeful, especially if there is political and policy change. Changes have to happen or else we're back in the same boat.