By Amanda Davidson, Grant Manager, LeadingAge California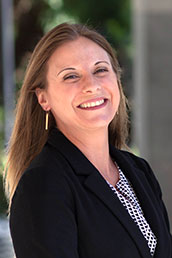 We all know how important it is to practice self-care, especially in times of stress or trauma. Taking care of ourselves means that we are being mindful of our own needs and taking steps to improve our physical and mental health. Self-care can be as simple as taking a walk outside in the fresh air or cooking a favorite meal. But what does self-care look like for an individual residing in skilled nursing, where care is being diligently planned and provided by staff and family?
Through the LeadingAge California iNSPIRE Project, many skilled nursing residents are actively engaging in moments of self-care. Provided with iN2L's person-centered engagement technology, residents explore and connect with content that sparks interest and makes them feel happy, calm, excited, and energized. Like with many other self-care activities, engaging with the iN2L technology is simple but undoubtedly impactful. These stories shared by iNSPIRE Project participants articulate the experience of three skilled nursing residents:
A resident at Villa Gardens Health Center was previously an engineer for NASA's Jet Propulsion Laboratory. He had read in the newspaper about the upcoming 2021 Mars landing and was very excited. Using the iN2L tablet, he live-streamed the event and watched in real time as the Mars Perseverance rover touched down. He was overjoyed and elated to experience such a momentous event that also held personal significance.  
Meagan Swan, administrator at Monte Vista Grove Homes recently shared, "iN2L is an incredible program. The detail, the variety, and the simplicity provide an engaging platform for both residents, staff, and families. I have seen residents who are non-verbal and least likely to engage come to life. I have a 96-year-old resident who is non-verbal, and when she hears tunes or hymns, she belts those songs out so loud and does not miss a word! It is truly a blessing to have a platform that promotes and allows the individual to express themselves."
A resident at Mission de la Casa Nursing & Rehabilitation Center, Vui appreciates the engaging content that iN2L offers and happily wrote, "I love the Games and Puzzles content that the tablet provides. I love to play all the games in there. It also makes me use my brain to think and focus better. Playing the games puts me in good mood."
Self-care is multifaceted and tailored to the individual. It promotes purposeful engagement and fulfillment of the mind, body, and soul. Person-centered engagement technology provides an opportunity for skilled nursing residents to actively participate in their own self-care experience – it is a culture shift at our fingertips.
In April 2020, LeadingAge California launched the Integrate fuN, Sustainable, Programming that is Innovative, Rewarding and Enriches (iNSPIRE) Project. Funded through a CMP grant awarded by the California Department of Public Health, the iNSPIRE Project provides nursing homes with iN2L engagement technology, which offers thousands of computer-based experiences aimed at improving quality of life, reducing psychotropic drug use, providing stress relief, and much more.
For more information about the iNSPIRE Project contact Grant Manager, Amanda Davidson at grants@leadingageca.org or visit leadingageca.org/inspire-grant.