COVID-19 has made securing safe and nutritious food an issue for low-income older adults across the country, many of whom are in a high risk category due to underlying health issues. Those older adults without internet access or with limited English and technology skills may struggle to access adequate nutrition and navigate the burgeoning online world of food delivery services.
KEIRO SENIOR HEALTHCARE COMMUNITY SERVICES, LOS ANGELES, CA.
L.A.'s historic Little Tokyo is home to hundreds of low-income older adults, many considered high risk for COVID-19.
THE CHALLENGE
Local organizations took notice as residents continued to frequent local grocery stores and restaurants even after the shelter-in-place order took effect. "Many of their meal programs have been altered during this crisis," said Brandon Masashige Leong, Director of Development and Communications for Keiro, a Southern California organization which provides programs and services for Japanese older adults. "We wanted to help prevent them from having to go out shopping and putting themselves at risk."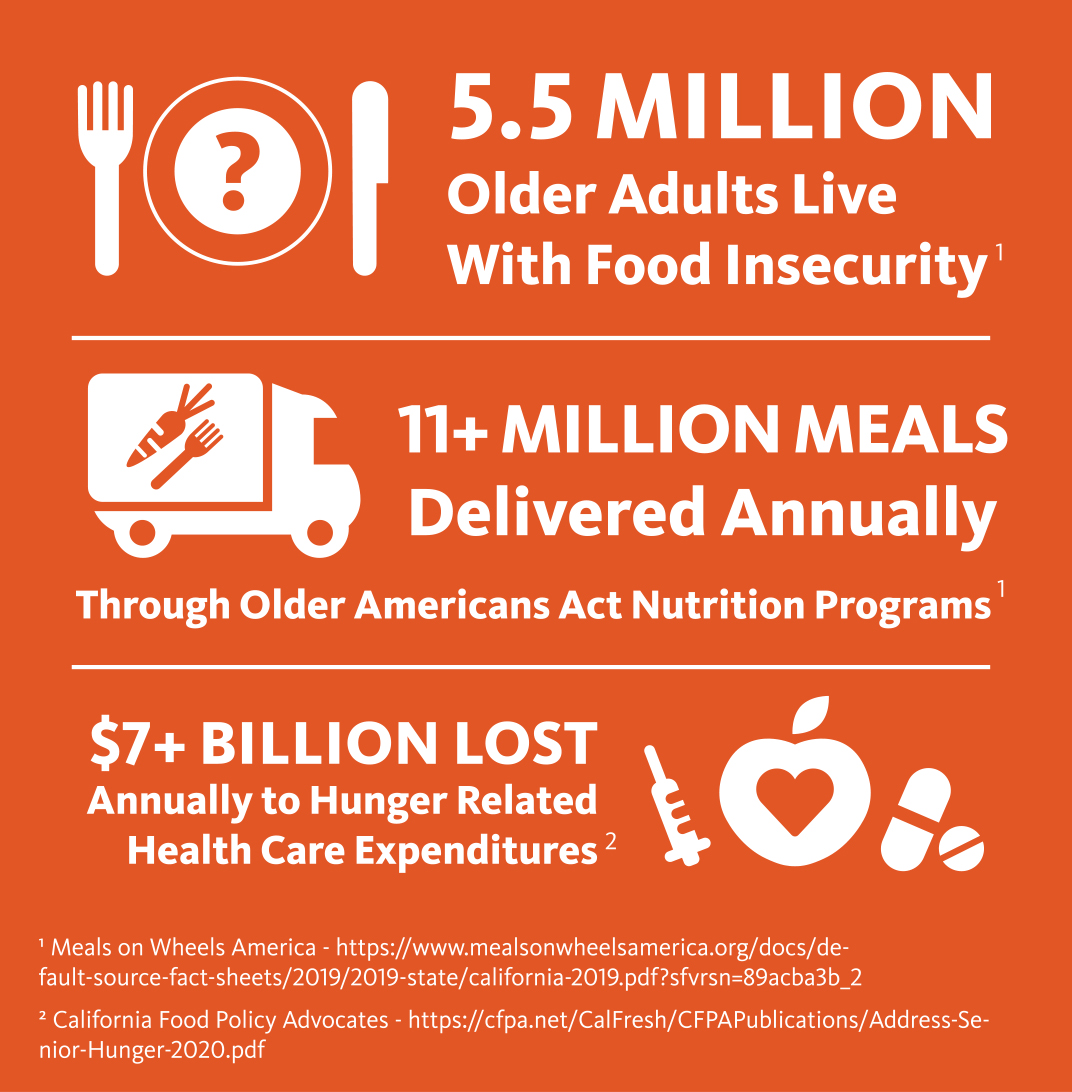 Keiro teamed up with local nonprofits Little Tokyo Service Center and Little Tokyo Community Council to create a new emergency meal delivery program for their community's most vulnerable seniors.
Several family-owned restaurants in the neighborhood, many hit hard by COVID-19, have been enlisted to prepare the meals on a rotating basis. "The program provides the funding and the restaurants are responsible for preparing the meals," said Leong. By having the restaurants handle the packaging process, he explained, "it also reduces the need for volunteers and reduces the number of people handling the food." The menu itself is focused on traditional Japanese meals. "Donburi (rice bowls), noodle dishes," said Leong. "We felt it was a priority to provide culturally-sensitive meals in order to create the least disruption for these older adults."
When the food gets home, how do you make sure it's safe to open and eat? Keiro answers this question with their recently launched online curriculum that teaches older adults timely skills like how to use meal delivery apps, how to sanitize delivery items, and ways to acquire basic necessities. Seniors without Internet access can still listen to the webinars with an "audio only" feature.
Keiro continues to work with some of the community partners in their network by launching traditional "phone trees" to keep people engaged and encouraging younger individuals to connect with parents, grandparents, and neighbors to help them cope with the situation.
Leong stresses the importance of partnerships and community ties as residents, providers and businesses adapt to the new normal. "Collaboration is key," he said. "Even working with organizations or businesses that we may not have ever thought to work with before. Everyone is struggling right now, in many ways, but it is also a time to think creatively and truly work with partners to weather this crisis together."
THE SOLUTION
Through a question and answer session with Darrick Lam, President and CEO, ACC Care Center and ACC Greenhaven Terrace in Sacramento, Calif., we cover how programs like this are instrumental in helping to provide food security to those who need it.
How is COVID-19 impacting ACC's Meals on Wheels?
Meals on Wheels by ACC has asked all volunteers including those 65 and over to stay home, so that we can adhere to social distancing guidelines and directives from Sacramento County public health officials. At this time, meals are being delivered by both staff from Meals on Wheels as well as ACC Rides, which is ACC's transportation program.
Can you describe major challenges you're experiencing, and how staff is working around these challenges?
There are shortages right now and everyone is scrambling. But I think it's a blessing how the city of Sacramento has stepped up. We recently signed a contract to serve as a fiscal agent for a new program called the City's Daily Meals Program, in partnership with city of Sacramento and several local restaurants who will cater and deliver the meals. A total of 5,800 meals will be provided for about 725 residents per week at 11 different properties under the Sacramento Housing Redevelopment Agency.
Have food shortages been an issue for anyone within your program as of late?
We are trying our very best to determine needs. We are also working along with other providers. Sacramento Mayor Darrell Steinberg created the Food Access Coordination Workgroup in March of 2020 to help our vulnerable
populations in Sacramento amid the COVID-19 pandemic. Through this effort we'll be working to solve these issues collectively rather than individually.
What would you propose as a solution moving forward?
I think the approach the City is taking with the Food Access Coordination Workgroup should continue. Hopefully we'll have stronger leadership at the national level, and the foresight to be more prepared instead of redirecting critical resources to other areas. This is a wakeup call, so everyone at the local, state and national level should be paying attention.