LeadingAge California members in architecture, marketing, and PR shared their thoughts on how designs for future senior living communities could change in the wake of COVID-19 – with new and heightened concerns like infection control, combating isolation and restrictions on visitation – and what it will it take to build "resilient" communities to survive and thrive amidst tremendous change.
COMMUNICATING WITH POTENTIAL RESIDENTS
An older adult considering a senior living community today might understandably have concerns before deciding on a move. "We are hearing from potential residents that they want to know how leadership has been responding to the pandemic, and they want to know about the number of COVID-19 cases the community has experienced, said Derek Dunham, Vice President of Client Services for Varsity. "When people used to say they were seeking safety, they typically meant physical security. Now it's wanting to know the community's safety protocol as it relates to sanitation, and infection control, which is really baked into the DNA of these communities." However, many say the pandemic hasn't deterred move-ins, with the overall benefits of living in a long-term care setting outweighing other concerns.
With on-site visits not generally an option, embracing the transition to digital is even more critical, said Dunham, and everyone has to be more innovative. Events like Paradise Valley Estates' "virtual walk-throughs" and tours provide opportunities to connect with potential residents through a new platform. Jane Walker, Director of Sales and Marketing at Paradise Valley, said that while the transition to digital has been a challenge, these events have been successful in helping continue to attract new residents.
NEW EXPANSION BUILDS ON A STRONG FOUNDATION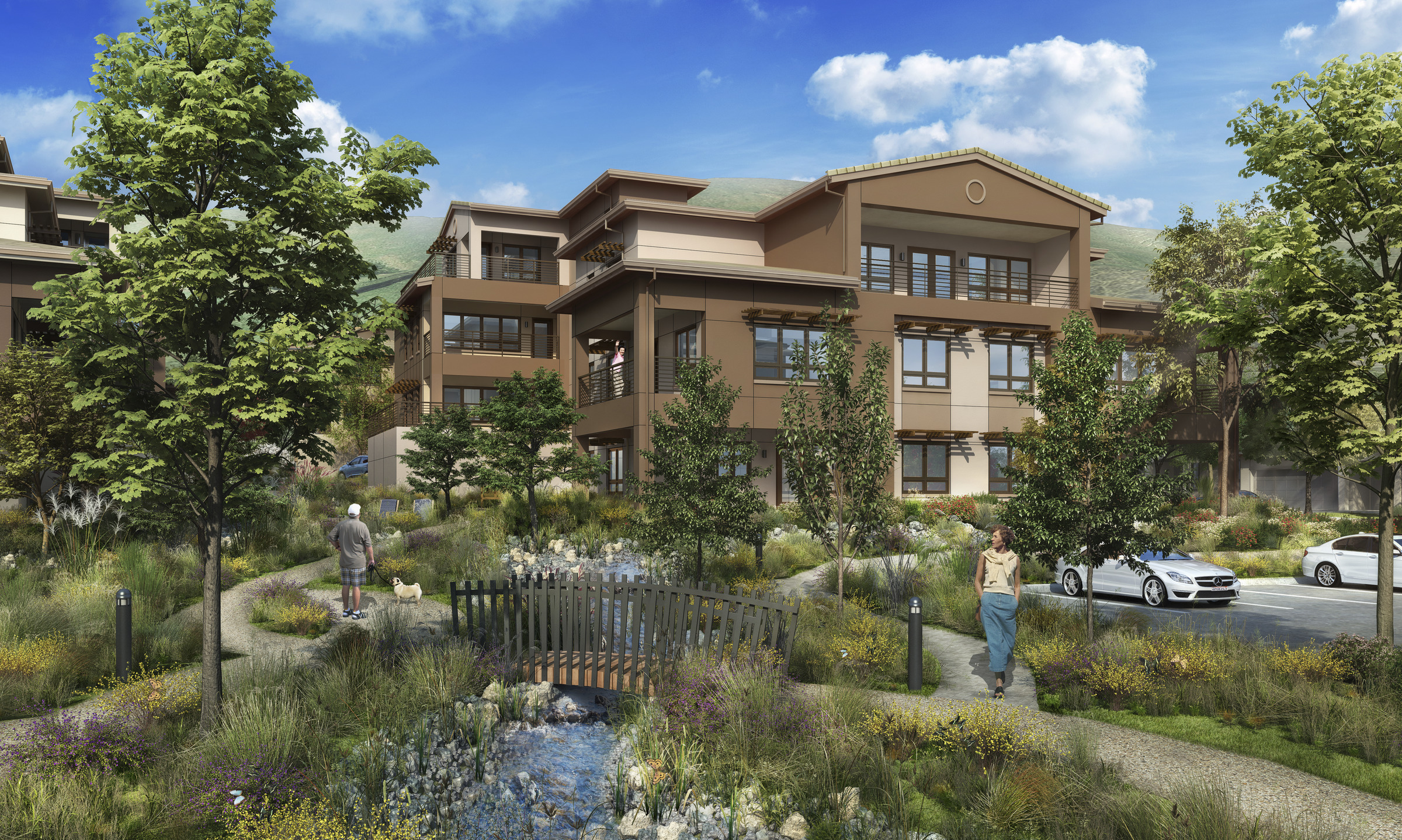 Originally a military officers' retirement community, Paradise Valley Estates was already quite resilient, with a unique combination of factors including a gated campus with security guards and a robust internal communication infrastructure that have helped them achieve zero cases of COVID-19 among staff and residents.
An eight-acre expansion project with Perkins Eastman, now 50 percent near completion, is designed to connect people with the outdoors and ensure residents' personal space.
"As we've all learned during lockdown, the more you can get outside, the better you feel," said Leslie Moldow, architect at Perkins Eastman. Moldow explained that with traditional models, the common spaces are typically turned inwards within a building. This expansion includes a series of paths networked throughout the community that have been designed along creek beds, under trees and leading past various activities so people can feel connected with nature. And in case of another quarantine, every apartment is designed with a large outdoor deck and cross-ventilation so residents don't feel trapped.
CEO Kevin Burke explained that technology was also a huge priority for the expansion. The community was already piloting autonomous vehicles with Boston-based company Optimus Ride, and this system was switched to meal delivery once COVID-19 hit.
"Leslie will tell you we talked about from the beginning advancing as much technology into the design as we could," he said. "We currently have the technology to broadcast to all units through Skilled Nursing, Memory Care — so every residential unit on campus can see live and recorded broadcasts from a number of areas in the community."
In addition, through a feedback system and resident portal called PVE Pulse, residents can communicate with senior management directly through email or answers can be added to the upcoming broadcast with an explanation. This technology became critical as the community moved quickly to lock down during COVID-19. "It was so important in helping us keep our team up to date on what was happening," said Burke.
EXPLORING ALTERNATIVE MODELS
HumanGood community Valle Verde in Santa Barbara is partnering with Perkins Eastman to explore the Small House Model for skilled nursing through California's Small House Skilled Nursing Facility Pilot Program. While 10 to 12 residents is standard in California, by state regulations, a "small house" is defined as a health facility that provides care in a home to no more than 20 residents.
Moldow explained that in a small house model, the units and nursing stations are broken down into clusters. Each unit is a complete home with a living room, private resident bedrooms and full, private bathrooms. The idea is that a big part of the infection control occurs from not only having a small, dedicated staff knowing each resident on a personal level, but also by helping residents maintain their sense of privacy and dignity in a sterile environment.
"Thanks to the California Department of Public Health's new pilot project, it's possible to create a more person-directed model within supportive, small-house regulations," said Valle Verde Executive Director Melissa Honig. "With workforce challenges and declining interest in nursing homes stays, it's not only necessary but it's the right thing to do — now more than ever."
IMPROVING SAFETY THROUGH AIR QUALITY UPGRADES
Upgrades in safety in terms of environmental air quality are also likely to happen, says Douglas Pancake, president of Douglas Pancake Architects, beginning with indoor air quality. The company has been exploring innovative ideas and equipment such as plasma air scrubbers, similar to air purifiers, that help reduce airborne particulates in individual rooms, as well as exploring creating a visitor's center equipped with a plexiglass barrier, two separate ventilation systems, and two-way speaker technology to help alleviate social isolation during another quarantine. "I've always been intrigued by (geriatrician) Dr. Bill Thomas," said Pancake. "He identified the three plagues in nursing homes — loneliness, boredom, and helplessness — and that has stuck with me all these years as a design goal in terms of creating spontaneity."
MOVING FORWARD
COVID-19 will challenge us to create, innovate and challenge traditional norms to adapt to the changing climate and needs of today's older adults. "This virus has its own process with the four stages of denial, anger, bereavement and acceptance," said Honig. "If you look at what we're learning right now, I know we'll come through this better and stronger."