By Amanda Davidson, Grant Manager, LeadingAge California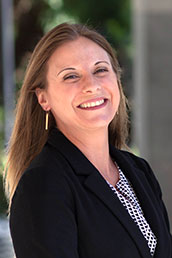 I'm at Regents Point – Windcrest, seated outside at a wrought iron patio table. I'm waiting while Administrator Lananh Huyen ducks back inside through a sliding glass door to gather a handful of staff members to join our conversation. I've been looking forward to today. I'm visiting three skilled nursing facilities in Southern California and sitting down to talk to members of their staff. With the challenges surrounding workforce intensifying, the devastating impact of the COVID-19 pandemic on older adults in long-term care, and the negative portrayal of nursing homes in the media, I want to hear their experience. I want to know what makes them show up, day after day, and why they do the work that they do.
Lananh comes back outside, followed by Director of Nursing, Grace Henson; Assistant Director of Nursing, Edward Delfin; and Activity Coordinator, Angie Iban. There's a sense of fulfillment and honor when these four staff members talk about the work that they do. They cite patience, passion, courage, and open-mindedness as characteristics that they would recommend to someone new to a career in skilled nursing. Lananh mentions that because the industry is so regulated, they must be innovative and will seek out opportunities, like CMP grant-funded projects, to enhance their person-centered care.
As the group of us walk out to the front of the building to take a quick picture, Grace pulls me aside and tells me to get home safely. Her kind gesture makes me feel that she cares and has my best interest at heart. It's clear that this is the way that Grace, Lananh, Edward, Angie, must make their residents feel every day.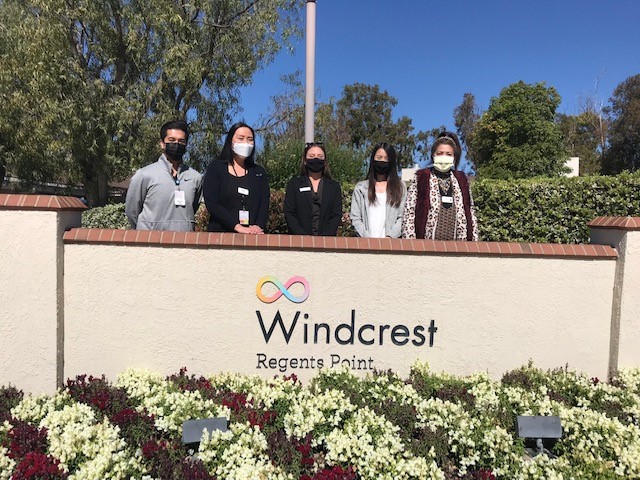 After driving north to The Health Center at Mt. San Antonio Gardens, I'm seated in a common area, across from Life Enrichment Director, Yolanda Walker. Yolanda came from a preschool background, working with children. A friend encouraged her to apply to The Health Center at Mt. San Antonio Gardens when the COVID-19 pandemic closed schools and children transitioned to virtual at-home schooling. She was hesitant at first, but now she can't imagine going back to teaching or doing anything else. "This is where I'm meant to be," Yolanda says, "and I look forward to coming to work."
Yolanda says that the best part of her job is the relationships she forms with her residents and being of service. "It's more than just playing bingo," she states, "you're really enriching their lives." She smiles and then adds, "I laugh here more than I thought I would."
My final visit is to Pilgrim Place Health Services Center. Community Social Worker, Claudia Chavez, zips us around the large campus in an electric golf cart. Claudia knows every inch of the grounds and acknowledges each resident and staff member that we encounter by name. We make our way back to her office and are joined by Life Enhancement Supervisor, Gwen Jones.
Gwen says that the best part of her job is getting to know the residents and being part of their lives. Claudia agrees and mentions that there is a reciprocal process that happens between staff and residents and that she values those interactions a great deal and learns from them. Claudia loves the capacity to do social work at Pilgrim Place Health Services Center and feels strongly that listening to residents and honoring their choices is the most important part of her job. "We are empowering resident voices," she says, "and this is a place to live, not to die."
When I started work as a CMP grant manager in 2015, I was introduced to the world of skilled nursing for the first time. Admittedly, I had preconceived notions about nursing homes and the people that worked in them. It took only a few in-person visits for those preconceived notions to be proven wrong. I quickly fell in love with skilled nursing and began to see the people that make up its workforce in a new light. Years later, I continue to meet and be inspired by staff that provide exceptional care, are passionate and joyful in their work, and who seek out any opportunity to better the lives of their residents.
My challenge to anyone who may feel the way that I once did, or who may be interested in a career in skilled nursing, is to go to a nursing home, meet the staff that work there, and ask them what it is that they love about their job. Nine times out of ten, they will mention the residents they care for. Inside your local nursing home, you will find exceptional people that possess immense kindness and the willingness to care for others. And with the rapidly growing population of older adults in California who deserve to age with dignity and compassion, we need these people in the workforce now more than ever.